BC's Life Expectancy Highest in Canada?
Life expectancy continues to climb in Canada, and men and women born in British Columbia can expect to live the longest, says a Statistics Canada report recently released.
British Columbians' life expectancy from birth climbed to 81.4 years, according to statistics collected from 2006 through 2008.B.C. was followed closely by Ontario (81.3 years) and Quebec (81 years).
Nationwide, life expectancy is now 78.5 for men and 83.1 for women - an average of 80.9 years.The previous life expectancy for Canadians was 80.7, calculated from 2005 through 2007. That's up from 78.4 in 1995.Women in B.C. now have a life expectancy of 83.6, while men in the province have a life expectancy of 79.2 - the highest in Canada for both genders.
The gap in life expectancy between men and women is closing, the report indicated."While men generally have a lower life expectancy than women, the gains made in the previous 10 years have narrowed the gender gap," StatsCan said in the report."During the 1996 to 1998 period, the gap in life expectancy at birth between men and women was 5.6 years, whereas in 2006 to 2008 it was 4.6 years."In another report posted on the StatsCan website called Disparities in life expectancy at birth, the authors noted that life expectancy varied across Canada due to several factors.
Regions with lower life expectancies tend to be rural and have lower levels of education, more poverty, fewer immigrants and larger first nations populations, according to the report by Lawson Greenberg and Claude Normandin.
Higher rates of smoking, obesity and heavy drinking
were also associated with regions with lower life expectancies.Yukon, Northwest Territories and Nunavut together had an average life expectancy in 2008 of 75.2 years, the lowest in the country.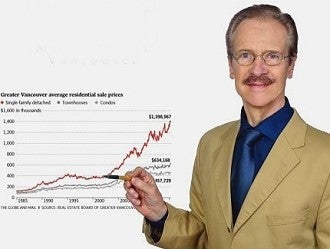 Quick Contact
Award Winning & Trusted Marketing Expert - Bernie Bloomberg PREC Personal Real Estate Corporation
Bernie Bloomberg is an independant contractor of SUTTON GRP WESTCOAST REALTY #1 BROKERAGE IN CANADA
100-801 Marine Drive Vancouver, BC V7P 3K6
Not intended to induce breach of an existing agency agreement.
Mobile:
778-888-6001 Direct
Phone:
778-888-6001
Email:
realtorbloomberg@gmail.com