How Canada can avoid Germany's refugee troubles?
The 10,000th Syrian refugee is expected to arrive in Canada today. Whether she feels welcomed will test the skills of this new Liberal government. 
Apart from some missed deadlines, the Syrian airlift has gone amazingly well. Polls show most Canadians support the operation to bring 25,000 refugees to Canada by the end of February and between 35,000 and 50,000 by the end of the year. If the operation were being handled in a slapdash, careless or politically motivated manner, we'd have heard about it by now from sources inside or close to the Immigration Department. Instead, all evidence points to a committed, careful screening process overseas and a well-prepared integration plan here at home. Everyone involved, from the approximately 500 departmental officials who have worked tirelessly, some of them straight through Christmas, to Minister John McCallum, deserves high praise.
But in Europe, the situation is much worse. As refugees flooded north, Germany opened its doors to more than one million Middle Eastern migrants. That's an extraordinary number. For us it would mean having taken in more than 430,000 refugees last year, with virtually no screening of any kind whatsoever, and with tens of thousands more on the way. How many Canadians do you think would support such a policy?
So when a thousand or so revellers, most appearing to be of Middle Eastern or North African descent, sexually harassed and assaulted women in Cologne on New Year's Eve, native-born Germans howled. Such conduct violates everything that they and we stand for. And of course, didn't some jerk in a hoodie feel the need to pepper-spray a group of refugees in Vancouver. Idiot.

There are many good reasons why Canada should be able to escape the ethnic tensions that threaten to ignite in Germany. We are taking far fewer, and far more carefully screened, refugees. We are a settler society, with a deep history of embracing wave after wave of those seeking a new start and a better life. Those new arrivals – from the Irish in the 19th century to the Eastern and Southern Europeans after the war, even to the Chinese and Filipinos and Indians who dominate our immigration intake today – had to and have to endure prejudice, but they integrated successfully nonetheless.These new arrivals will doubtless integrate successfully, too, just as the 380,000 Arab Canadians who came before them have. But the Trudeau government will need to ensure that language training, housing and jobs are available for the new arrivals, without letting them jump to the front of any queue. It will need to be vigilant in watching for possible security threats, it will need to act swiftly to counteract any signs that this latest intake is struggling – the surest sign would be evidence of Syrians clumping together in racially defined ghettos with below-average incomes and above-average crime rates – or to any evidence of growing hostility from native-born Canadians.The early evidence suggests that this government is up to the job. Here's hoping that continues.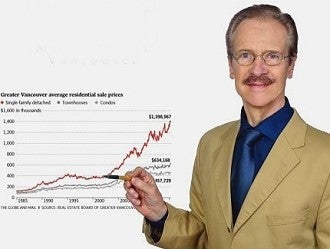 Quick Contact
Award Winning & Trusted Marketing Expert - Bernie Bloomberg PREC Personal Real Estate Corporation
Bernie Bloomberg is an independant contractor of SUTTON GRP WESTCOAST REALTY #1 BROKERAGE IN CANADA
100-801 Marine Drive Vancouver, BC V7P 3K6
Not intended to induce breach of an existing agency agreement.
Mobile:
778-888-6001 Direct
Phone:
778-888-6001
Email:
realtorbloomberg@gmail.com