Selling Real Estate Is A Numbers Game by Bernie Bloomberg
Top Realtor and Marketing Expert Vancouver
Selling real estate is also a numbers game. 
In other words how many properties in my area compete for the very same buyer at the same time and how many buyers can I reach with my offering.

Clearly, newspapers or Craigslist are nice for selling coffee makers or bicycles but not so nice for selling $1 or $2 million real estate properties. Not to mention 3, 4 or 5 million dollar properties. Or would you offer your 250K Ferrari on Craigslist as well? After all, every buyer on Craigslist expects a bargain of 30 - 50% and more. In addition, there are hardly any properties over $1.5 million advertised on Craigslist. 
Please refer to our biggest free marketing program and compare for yourself which of the 50+ tools you would be able to apply. As I mentioned earlier selling real estate is a numbers game and eventually a matter of
how much exposure I can give my own property.
Or let us put it this way,
selling real estate is not necessarily a matter of IQ but rather a matter of exposure, connections and specific knowledge.
That's why most private sellers turn their properties over to a good Realtor sooner or later. 

Top 10 Realtors also draw from their own comprehensive databases with hundreds of up-to-date buyers. And top 10 Realtors usually sell up to 23% higher than private individuals. Source: National Association of Realtors.

As I said, it is all a numbers game.

Warm regards

Real Estate Advisor
Real Estate Marketing Expert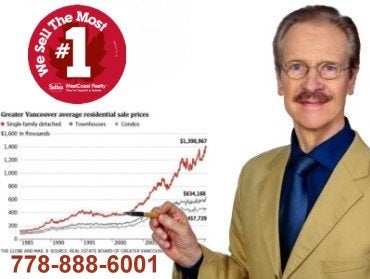 Quick Contact
Award Winning & Trusted Marketing Expert - Bernie Bloomberg PREC Personal Real Estate Corporation
Bernie Bloomberg is an independant contractor of SUTTON GRP WESTCOAST REALTY #1 BROKERAGE IN CANADA
100-801 Marine Drive Vancouver, BC V7P 3K6
Not intended to induce breach of an existing agency agreement.
Mobile:
778-888-6001 Direct
Phone:
778-888-6001
Email:
realtorbloomberg@gmail.com