Why 'For Sale By Owner' Fail - or - Why a Highly Skilled Realtor Gets You A Lot MORE Money
It's a common mistake made by many, however few know the true downfalls of selling your own home. I will admit, 'For-Sale-by-Owner' or 'FSBO' sounds super easy and attractive, so we must ask ourselves: why is it that qualified Realtors, prove time and time again, that they are truly the ones who can get the job done and more importantly get the highest price in the shortest amount of time for their clients without legal complications?

There must be a reason why the number of private sellers (FSBOs) has decreased by over 50% over the last 20 years.
Graph below. Source:
National Association of Realtors.
Meanwhile, only 8% of all real estate is offered by FSBOs of which 92% are taken over after a while by Professional Realtors and listed on the MLS. It is also a fact that
professional Realtors sell up to 23% higher
than FSBOs.
Graph below.
And it is also a fact that lawyers, for example, win dramatically more lawsuits than clients who sue or defend themselves.
Just to draw a comparison.
So what sense does it make to handle the biggest financial transaction of my life just by myself when it is a proven fact that a skilled Realtor gets me, the seller, up to 23% more money out of transactions in a shorter amount of time?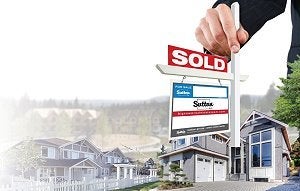 Let's take a client who recently sold his $Mill+ home in an extremely desirable Vancouver neighborhood. Out of respect for this client, we will call him Joe. Since the beginning, it was very apparent that Joe and his 
wife were ready to sell their beautiful home. After years of enjoying the property, their purpose was clear. They were looking forward to downsizing. 

Like most sellers, the thought of giving up a piece of the pie, or shall we say, pay an agent a commission, is a hard pill to swallow. But when you take a closer look, and begin to weigh the advantages against the disadvantages, using an agent does not seem all too difficult anymore. In fact, that once 'hard pill to swallow'….seems more like a pill that "must" be swallowed, in order to prevent a near tragedy.
Back to Joe and his wife.
Before having met with a real SUTTON Westcoast Realtor, they decided to proceed with a 'FSBO'. Joe's property sat for over 3 months with little-to-no action. When Joe and his wife finally did receive offers, they were from low-ballers who not only tried to get an unreasonable discount but in addition the price reduced by the commission Joe would have had to pay had a real Realtor been involved. There were also buyers with bad credit, or agents representing house flippers/investors looking to make a quick profit. This was hard for Joe, as he knew his home's true value at heart.
What happened next was amazing. After growing tired of attracting the wrong crowd to the property, Joe and his wife finally came to the realization that their 'For Sale by Owner' sale was not all as wonderful as it seemed.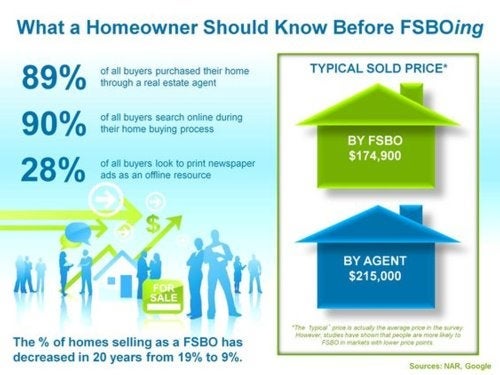 Soon, Joe began interviewing a few agents who solicited him for representation. Attitude, immense knowledge, and a wealth of knowledge is what won the real SUTTON West Coast Realtor the listing that day. This Realtor showed Joe that not only was he a seasoned and committed Realtor, but also, by properly pricing Joe's house higher than any other agent, he demonstrated his deep understanding of the market.
Within 4 days of the first open house, Joe and his wife had their first offer and the second offer arrived shortly after. The result you ask? The home sold over asking price, but most importantly, Joe and his wife walked away with a smile.
P.S.
the owner of one of the larger FSBO agencies in Canada had his house on the market for over 6 months when he listed with SUTTON West Coast Realty and soon thereafter it was sold!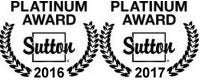 I am connected to over 1,800 SUTTON real estate professionals in Vancouver and over 9,000 in Canada alone. Plus several thousand agents from other agencies in Canada, US and around the world. Plus 10,000 friends, followers and connections on social media. 

Subscribing to my bi-weekly newsletters helps you stay in the loop, join lively discussions and keep track of news and updates you might have missed otherwise.

FREE - Sign up now. You may cancel anytime.
My privacy policy is simple. I will never share your information with anyone!
Quick Contact
Award Winning & Trusted Marketing Expert - Bernie Bloomberg PREC Personal Real Estate Corporation
Bernie Bloomberg is an independant contractor of SUTTON GRP WESTCOAST REALTY #1 BROKERAGE IN CANADA
100-801 Marine Drive Vancouver, BC V7P 3K6
Not intended to induce breach of an existing agency agreement.
Mobile:
778-888-6001 Direct
Phone:
778-888-6001
Email:
realtorbloomberg@gmail.com